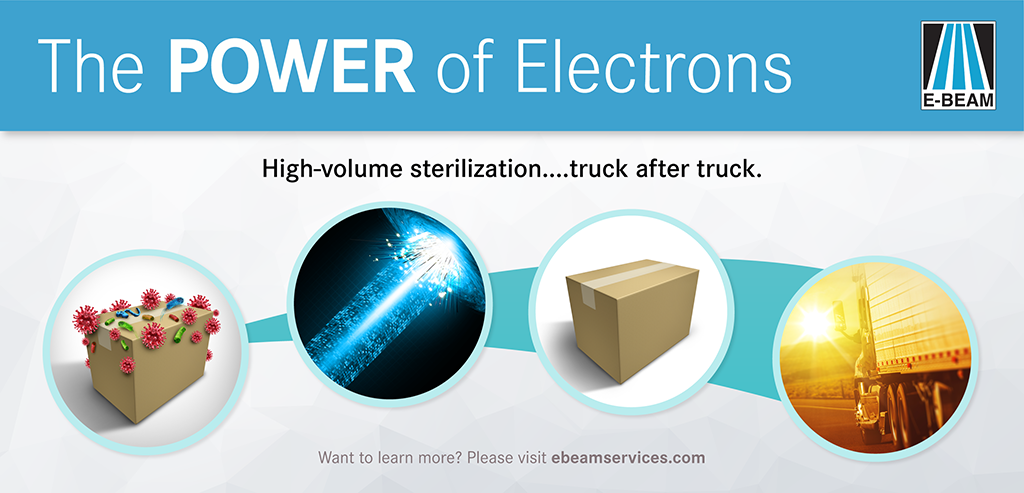 Dear valued customer,
In this unprecedented time, we wanted to reach out to you with a message. As the largest provider of medium-voltage electron beam (5 MeV) contract sterilization services on the globe, E-BEAM Services, Inc. reinforces its continuous efforts to provided uninterrupted services amid the COVID-19 outbreak and its related issues, particularly when it comes to assuring the safety of our team and the sterility levels of the materials processed in our facilities.

E-BEAM Services, Inc. continues a 30-year history in assuring that medical devices and single-use products are being sterilized most effectively and continuously, truck after truck. With the COVID-19 situation that means our core business is supporting the critical access to sterilized medical devices to those in need. We are also offering solutions and capacity for companies facing difficulties with the limited capacity of gamma or ethylene oxide sterilization modalities.
For a better understanding, medium-voltage electron beam sterilization, an FDA-compliant technology, effectively kills pathogens and hazardous microorganisms, including but not limited to coronaviruses, and according to the FDA, has been recently identified as an alternative for the sterilization of medical devices and single-use products that are currently being sterilized using ethylene oxide.
Internally, several initiatives have been undertaken to mitigate and decrease the risk and exposure to the virus and other pathogens and keep our team and products safe. We strongly believe our efforts will help make a difference and diminish the impact. We are committed and dedicated to keeping up the premier services offered over the last 30 plus years. We can create capacity for your COVID-19 test or critical supply needs. If you have any questions, our team will be pleased to assist you.