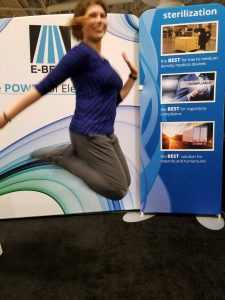 E-Beam Services was on the road again sharing the amazing Power of Electrons story with attendees at the Medical Design and Manufacturing (MD&M) Minneapolis show from October 31 through November 1.
We always look forward to this show each year and being a part of the MD&M supplier showcase experience, as it is a great way to highlight our electron beam sterilization technology and capabilities. It also provides an opportunity as a critical partner in the evolving and growing med tech ecosystem.
There were some serious newcomers this year who stopped by our booth and were surprised (as usual) by how quick the process is and the many benefits of using e-beam technology.
We were busy at the show due to new advances in medical devices, changing US demographics, changes in the sterilization landscape and higher demand for health care services..
In fact, earlier this year, E-BEAM Services extended its US capability for electron beam sterilization with the recent expansion of their Cranbury, New Jersey facility. The expansion was in response to a rapidly growing demand from new and existing customers to harness the power of electrons for medical device and pharmaceutical sterilization.
E-BEAM Services prides itself on delivering solutions that provide safe, standardized and effective processing, while maintaining product integrity. We have the expertise to not only develop R&D programs, but the capacity to support growth; it's a long-term relationship from the birth of an idea to commercialization and through many years of processing. We believe this is commitment that translates to everyone's success.
With thousands of attendees, more than 500 exhibitors, and so many industry leaders, MD&M Minneapolis was a great event for the E-BEAM team – even if our feet did hurt.