The New: Lab Coat
If you're an avid follower of Karen's Corner, you might have noticed that Karen recently got a makeover. The content hasn't changed at all, just Karen's lab coat!
The Good Ol': FAQ vs. Blog
When we at E-BEAM Services were starting Karen's Corner, we debated between writing a FAQ section, or a blog. With a technology as unique as electron beam processing, there are many common questions about the many different applications. These would have been easiest to answer in FAQ format, but these questions deserved more than a quick one or two sentence answer. So we decided to do both. Karen's Corner is a mix between a FAQ and a blog—in an effort to provide answers that will help with the general understanding of e-beam technology and processing, with some learning and fun facts mixed in as well. Well, fun facts if you're into the whole electron thing, which we very much are! 🙂
So thanks for joining us as we explore the power of electrons, and as always, be sure to submit a question to Karen if there's anything in particular you would like us to cover!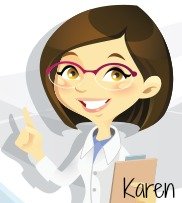 www.ebeamservices.com • Ohio (513) 933-0031 • New Jersey (609) 655-7460