Part 1: Why more material on a reel will result in a lower cost
Sometimes more is better. More vacation days, more good weather, and, in my personal opinion, you can't go wrong with more bacon cheesefries. The same principal also applies to the amount of material on a reel sent to us for e-beam processing.
The products we process reel-to-reel are extruded products such as: cable, heat-shrink tubing, PEX, and sheet.
When these materials are being manufactured, the speed of the extrusion process is often slow enough to enable the process to continue running when switching from one reel to another. E-beam processing, however, is much quicker and requires us to stop when switching between rolls.
Below is a chart of an example product processed at up to 500 feet per minute (fpm). The two stoppages for each reel—one when it is spliced into the process and one when it is connected to the take-up reel—may take a total of (say) 12 minutes of time per reel. That means that, for a reel 500 foot in length, the average speed of processing when taking the stoppages into consideration is less than 30 fpm! A reel 2000 foot in length, however, would have an average speed of 100 fpm. That is much more efficient and economical, as the pricing between those two reels dropped from (say) over $0.50/ft to less than $0.20/ft.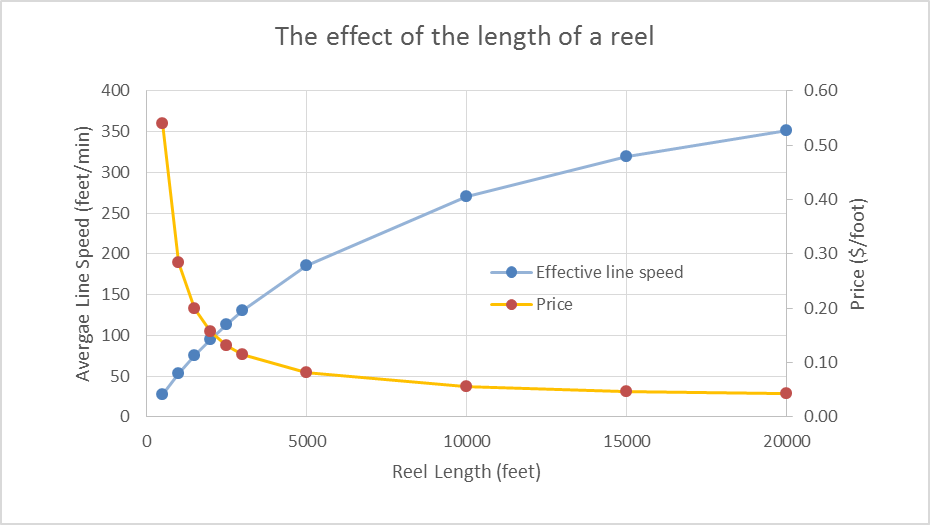 While there are weight restrictions, maximizing the length of a reel is an easy way to improve the cost per foot. Have more questions? Give us a call!
www.ebeamservices.com • Ohio (513) 933-0031 • New Jersey (609) 655-7460