Paul Minbiole
Chief Executive Officer
513-933-0031
Paul has 30 years experience in the electron beam processing industry and has been the President of E-BEAM Services for more than 25 years. In his free time, Paul enjoys conspiring with his 4 young grandsons on creative projects, often raising the eyebrows of his bride of 44 years.
Paul has a Masters degree in chemical engineering, and he has a number of patents, some of them even relating to electron beam processing! Paul insists on applying his engineering background on capital projects; he has been responsible for the design and construction of 5 multipurpose electron beam processing plants, and he proudly claims he got #4 and #5 'right'
Paul is active representing E-BEAM Services and the International Irradiation Association (iia) at industry conferences worldwide. In 2013 in Shanghai, he was honored by the International Irradiation Association as an industry "Laureate", one of only a dozen or so currently engaged full-time in the irradiation industry
Paul has offices in the Lebanon, Ohio facility and the Cranbury, New Jersey facility.
---
Bill Crilley
Vice President Technology & Business Development
609-655-7460
william.crilley@ebeamservices.com
Bill has a penchant for long relationships, 38 years in the industry, 20+ years with E-BEAM Services and 40+ years dedicated to his wife, children and grandchildren. Family and relationships are high on Bill's list.
At E-BEAM Services Bill spends every day working with customers developing applications using electron beam technology in an effort to build long term relationships that deliver value.
Bill majored in the management sciences at Kean University and has been with E-BEAM Services since 1994. Experienced in Sales, Customer Service, Operations, Manufacturing and Quality Systems along with 20 years of electron beam processing Bill is uniquely qualified to undertake the challenge of differentiating your product from your competitors in today's marketplace.
Bill is located at the Cranbury, New Jersey facility.
---
Sam Strotman
President & COO
513-933-0031 ext. 1229
sam.strotman@ebeamservices.com
Sam joined E-BEAM Services in 2013, bringing with him many years of experience in operations leadership, a Six Sigma Black Belt, and a solid footing in Lean Manufacturing. At work, Sam is focused on making sure E-BEAM effectively supports our customers with safe, high quality, constantly-improving operational processes.
Outside of work, Sam is trying to figure out what to do with his spare time after his recent retirement from the Marine Corps Reserve (30 years of active and Reserve service!)–those who know him are confident it will involve sports. With college-age kids attending Alabama and Ohio State, he can probably root for the college football champion for the next decade, but his passion is college basketball and his alma mater Iowa State University.
Contact Sam if you want to talk operations, logistics, or Big XII hoops (he may refuse calls from Kansas fans October-March).
Sam is located at the Lebanon, Ohio facility.
---
Dan Yasenchak
Technology & Development Manager
513-933-0031 ext. 1234
dan.yasenchak@ebeamservices.com
Dan starts a typical day with a 3-mile jog followed by a relaxing bike commute to work – a habit he has developed over 15,000 miles ago. At the office, Dan's goal is to work closely with clients to determine if e-beam is the right solution for them, and if so, how to best apply the technology.
Dan is a graduate of the University of Cincinnati with a BSChE degree and a graduate of the RISO electron beam program, but nothing has been as important as the experience he has gained from working with a wide variety of clients at E-BEAM Services, Inc. since 2001. Dan specializes in plastic polymer crosslinking and branching, medical device sterilization and bioreduction, and just about anything else for which you can use a high energy electron beam. Dan can help guide you through the qualification process for medical devices using ISO/AAMI 11137, and other FDA requirements or the qualification process for polymer products. At the end of the day, Dan takes his relaxing bike ride home to enjoy time with his wife and three kids.
Dan is located at the Lebanon, Ohio facility.
---
Olivia Radcliffe
Marketing Specialist, Technical Services Specialist
513-933-0031 ext. 1224
olivia.radcliffe@ebeamservices.com
Olivia is a graduate of (The) Ohio State University, and her free time is usually spent finding a new place to walk her German Shepherd, playing in her garden, or hiding out somewhere with a book (or two).
Olivia started with E-BEAM in 2012, and gets to wear two hats as 1) E-BEAM's Marketing Specialist, responsible for the upkeep of the company's marketing and social media applications and 2) as Technical Services Specialist, walking new customers through the sterilization validation process following ISO and USP guidelines.
Whether you're interested in changing sterilization methods or have a new product to qualify, Olivia will work with your specific goals to see how E-BEAM can best benefit you!
Olivia is located at the Lebanon, Ohio facility.
---
Jenn Griggs
Quality Systems Manager
609-655-7460 ext. 1106
jennifer.griggs@ebeamservices.com
Jenn has been with E-BEAM Services, Inc. since 1997 and through the years has worked closely in the many markets that E-BEAM services, including chain scissioning of fluoropolymers, crosslinking of wire and cable, sterilization, and bioreduction of medical devices and pharmaceuticals, and processing of resin pellets to control melt flow. As the Quality Systems Manager, Jenn has responsibility for quality at the corporate level where she ensures compliance with industry standards and regulations. Jenn specializes in the medical device and pharmaceutical sterilization regulations and can provide assistance with FDA validation using ISO/AAMI 11137 for electron beam sterilization. She can work with you to develop the optimum techniques for cost-effective processing.
Jenn has received extensive training in the Validation and Process Control for Electron Beam Sterilization from the RISO National Lab, part of the Technical University of Denmark. She has also earned her Lean Six Sigma Green Belt Certificate from Purdue University and is a graduate of Thomas Edison State College with a BS degree in Business Administration.
In her free time, you can probably find Jenn out for a run, on her bike, or in a nearby lake as she works on her triathlon training. She also enjoys traveling with her husband and visiting family in the Sunshine State.
Jenn is located at the Cranbury, New Jersey facility.
---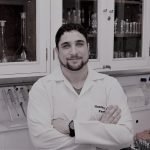 Gustavo Varca, B. Pharm, PhD
New Application Development Manager
609-655-7460 ext. 1114
gustavo.varca@ebeamservices.com
Gustavo joined E-BEAM Services in 2019 with a background in science and research & development using radiation technologies. Gustavo oversees new product developments and e-beam processing according to our customers' needs.
Gustavo is recognized worldwide as an expert in radiation technologies with a background in pharmacy (B. Pharm), a Ph.D, and two post doctorates in nuclear technologies, with over a decade of experience in radiation processing.
Gustavo is the scientific advisor of the International Irradiation Association (iia) and associate editor in radiation processing at the Radiation Physics and Chemistry Journal (Elsevier), author of a great number of patents, scientific articles, book chapters, and has been recognized internationally multiple times by different international organizations for his contribution to the advancement of the sciences of ionizing radiation. Gustavo has also undertaken projects and activities coordinated by the International Atomic Energy Agency (IAEA).
When not practicing Brazilian jiu-jitsu or trying to get his cats to behave well in North America following their recent move from Brazil, Gustavo likes to spend time with his wife teaching his months-old daughter the art of fishing.
Gustavo is located at the Cranbury, New Jersey facility