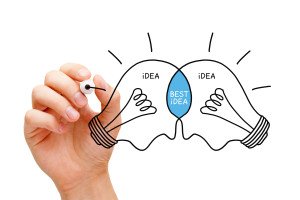 Our Customers Make Great Products
At E-BEAM Services, we don't have any products ourselves. We enable YOU to make new or improved products. E-BEAM has a long track record as a partner, trusted advisor and service provider for the manufacturers of a wide variety of industrial products, consumer goods, and medical devices across the nation. With Electron Beam Experiment Programs, we can provide the solutions you're looking for.
Our relationship can start with a non-disclosure agreement before we have our first substantial technical discussion. We can provide you with a standard non-disclosure agreement, or work with your agreement. We can make it happen fast – E-BEAM doesn't need a lot of legal input because we work within confidential relationships all the time.
Here's how we can help you get started:
Your E-BEAM representative will tell you what it would cost (usually about $900 for an experiment with multiple samples and several different doses). The samples can be tested for a desired outcome, such as tensile strength or electron beam deposition effect.
We can help you design the experiment to try to get the best information.
Based on our knowhow and our years of experience, E-BEAM can help you interpret experimental outcomes and help you overcome challenges along the way.
We will also work with you to determine a configuration that will minimize future production costs for the product.
Experiments
It all starts with an electron beam experiment — enabled by your friends (the RIGHT business partner) E-BEAM Services. We are a proven collaborator in innovation and in developing new applications. E-BEAM Services uniquely combines its experience and comprehensive services with an appreciation of each customer's needs. That means customized solutions to help you bring your products from 'idea' to 'production'.
Your Success; Your bright future
Once you have developed your proprietary product, E-BEAM has the high-volume electron beam accelerators for high-volume production. So it's in E-BEAM's interest that your application development is successful.
How about a new "partner"? E-BEAM can be a trusted partner in the informal sense. If you are part of a non-profit organization, you may qualify for a discount on your experiment(s). This may be possible if you can share your results/data with E-BEAM and if it is in an area that E-BEAM thinks would have commercial potential. If you are part of a smaller company or a start-up company, and if you are willing and able to share some aspects of your business plan, you may qualify for a discount on your experiment(s), and E-BEAM might be able to offer additional support along the way in your development process – depending on the circumstances.