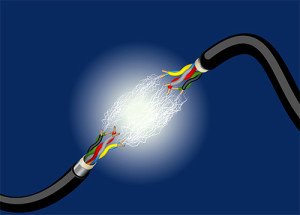 E-beam irradiation provides quality crosslinking and polymer modification for wire and cable and tubing products. E-beam crosslinking does not require any additives nor does it generate hazardous chemical by-products. This crosslinking method is energy efficient and the minimal amount of exposure time to the ebeam helps ensure high throughputs. An example, is Polyethylene crosslinked (PEX).
We havemore than 500kW of installed accelerator capacity with a network of facilities, and flexible handling equipment such as high-speed reel-to-reel equipment to handle all applications.
Common Crosslinking Uses
Heavy Wall Cable
Higher tensile strength and improved thermal resistance gives you an improved product above your competitor's. E-BEAM has the capability to crosslink any length, diameter, and gauge cable with unparalleled turnaround time.
PEX Pipe Tubing
Polyethylene crosslinked (PEX) tubing boosts thermal resistance up to 180 Fahrenheit over the standard 140 of uncross linked polyethylene. With both freezing and extreme heat resistance, plumbing with PEX pipe has become extremely common and this is largely due to its modified characteristics. Compared to copper pipes, PEX is cheaper, lighter, doesn't corrode, and greatly reduces the risk of burst pipes in cold weather. It's also much easier to install and has become a solution for many old plumbing issues.
Our strong polymer crosslinking process breaks the chemical bonds of the structure then creates new, more durable polyethylene bonds. See how our crosslinking process improves PEX pipe for yourself with this simple demonstration.
Heat Shrink Tubing
With the ability to improve resistances against abrasions, cracking, and fatigue, crosslinked tubing protects wiring like no other heat shrink product on the market.
Benefits to you
Quick processing
High throughputs
Customized solutions
Multiple Material Handling systems
No additives or by-products
Efficient process
Cost effective